(Last Updated On: January 29, 2020)
Fugitive Tyreek Davis Wanted on Felony Charges in Henrico General District Court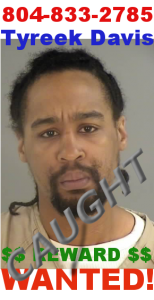 Update: Fugitive Tyreek Davis was brought into custody at the Henrico Jail on Thursday, March 15,2018. He awaits trial and all previously outstanding bonds have all been revoked.
---
Tyreek Davis failed to appear in the Henrico County General District Court on March 7th, 2017 on felony contempt/unlawful shooting charges.
Tyreek Davis's date-of-birth is 10-08-1983. He's known to reside in New York, Newport News, and Richmond. He's shown himself to display very confident and engaging personality; however, his deeds has proved to not match his rhetoric. [ In other words, he's full of crap! ]
Please call Aarrow Bail Bonds at 804-833-2785 if you have information on Tyreek Davis. If your information leads to apprehension, a cash reward will be paid.
Henrico County General District Court Map
Henrico County General District Court
4301 E Parham Rd
Henrico
,
VA
23273-0775
Phone: (804) 501-4723