(Last Updated On: January 29, 2020)
Update: Fugitive Antwaine Brown Wanted in Richmond Manchester General District Court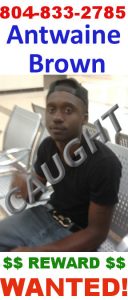 Fugitive Antwaine Brown was brought into custody at the Henrico Jail on Thursday, March 3,2018. He awaits trial and all previously outstanding bonds have all been revoked.
---
Antwaine Brown failed to appear in the Richmond Manchester General District Court on September 20, 2016 for felony larceny charges.
Antwaine Brown is 23 years old. He's known to reside on the south side of Richmond, VA. His employment is sporadic and has been known to make advances on his friends' women which often gets him in trouble with his friends.
Please call Aarrow Bail Bonds at 804-833-2785 if you have information on Antwaine Brown. If your information leads to apprehension, a cash reward will be paid.
Richmond Manchester General District Court Map
Richmonnd Manchester General District Court
920 Hull Street Road
Richmond
,
VA
23224
Phone: (804) 646-8990