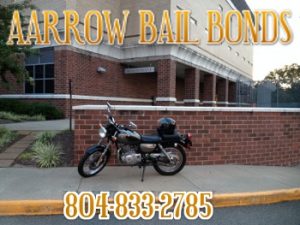 Aarrow Bail Bonds serves bail bonds at the Chesterfield County Jail 24 hours a day, 7 days a week. Call us anytime. Our bondsman will get your loved one out of jail fast. We would be proud to be the Chesterfield VA Bail Bondsman.
This Chesterfield jail does some things differently than most other jails. For those of us who are bonding people out, it seems this jail is not quite a accommodating as most other jails with respect to only allowing one person in the lobby when bonding someone out. This means either the bondsman goes in to the lobby or just one cosigner goes in to the lobby.
Typically, the bondsman and the cosigner(s) meet at the jail and do their paperwork in the lobby while waiting for the person to be bonded out. For the Chesterfield County Jail as well, that can only happen outside on the benches. This isn't a big deal as long as the weather permits. But during the winter when it's cold, it's not a good prospect.
The other option is to perform the paperwork in the vehicle. Personally, I'm not a fan of doing paperwork in a car. So what I typically do is meet the cosigner(s) at a nearby Waffle House where we can comfortably sign the paperwork over coffee.
So call us at 804-833-2785 for all of your bail bonding needs. We're fast, professional, and honest. We understand the stress this can cause, and our goal is to get you through this with as little hassle as possible.
Chesterfield VA Jail | Bail Bonds | Bondsman Map
Cheseterfield County Jail
900 Mimms Dr
Chesterfield
,
VA
23832
Phone: (804) 748-1476