(Last Updated On: July 16, 2023)
Update! Natalie Turner was apprehended on February 17th, 2023. As of this writing, she's incarcerated at the Henrico County Jail West facility without bond.
All bonds have been revoked.
---
Natalie Turner failed to appear in the Henrico Circuit District Court December 1, 2022 for probation violation relating to an embezzlement charge.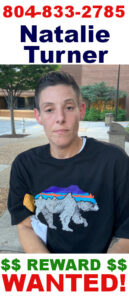 Her full name is Natalie Ann Turner and her date-of-birth is 12-05-1985. She has tattoos on the inside of her arms and lives on the south side of Richmond near Caldwell Ave.
If you have any information on fugitive Natalie Turner , please call Aarrow Bail Bonds at 434-218-0870. If your information leads to her being caught, a cash reward will be paid.
---