(Last Updated On: December 10, 2022)
Update! Devon Felder was apprehended in October 16, 2022. As of this writing, he's incarcerated at the Chesterfield County Jail without bond.
All bonds have been revoked.
---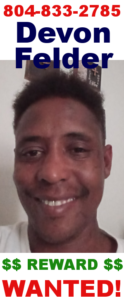 Fugitive Devon Felder failed to appear in the Chesterfield Circuit District Court last year on a felony drug charge.
His full name is Devon Marteen Felder and his date-of-birth is 02-21-1982. This guy doesn't seem to be a good man. He appealed to his mother and for help which she did and then left her to deal with his transgressions on her own.
If you have any information on fugitive Devon Felder, please call Aarrow Bail Bonds at 804-833-2785. If your information leads to her being caught, a cash reward will be paid.