(Last Updated On: January 28, 2020)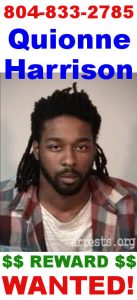 Fugitive Quionne Harrison failed to appear in the Hanover General District Court on February 15th, 2019 on a weapons charge.
He has an extensive criminal history ranging from possession and distribution drug charges, assault, theft, and traffic related offenses. Most of his charges occurred in Maryland where he also has an outstanding warrant in Baltimore.
Quionne's full name is Quionne Izell Harrison. His date-of-birth is 4-9-1991.
He's known to reside in the Petersburg / Hopewell area in Virginia. In Maryland, he's resided in Hanover, Elkridge, Baltimore, Gwynn Oak, and Glen Burnie. He also has ties through is previous/current girlfriend to New Jersey.
Please call Aarrow Bail Bonds at 804-833-2785 if you have information on Quionne. If your information leads to apprehension, a cash reward will be paid.
Hanover General District Court