(Last Updated On: March 8, 2020)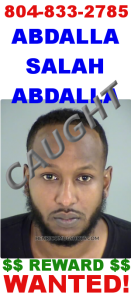 Update! Fugitive Abdalla Abdalla was booked into custody in the Henrico County Jail on July 3, 2019. As of this writing, he's waiting trial without bond.
---
Fugitive Abdalla Abdalla failed to appear in the Henrico County General District Court on February 14th, 2019 for alcohol related felony charges.
Abdalla also has outstanding felony drug charges in Caroline County General District Court. Abdalla has a somewhat extensive criminal history of drug, alcohol, larceny, and driving-related offenses in the jurisdictions of Henrico, City of Richmond, Colonial Heights, Caroline County, and Arlington, Virginia.
Abdalla's full name is Abdalla Salah Abdalla and is known to live in Richmond, VA and frequent Northern Virginia. His date-of-birth is 12-15-1989. After some investigation, this is apparently another case of an adult male who hide behind women's skirts. Men don't behave that way.
If you have any information on Abdalla, please call Aarrow Bail Bonds at 804-833-2785. A cash reward will be paid if your information leads to his apprehension.
---
Henrico County General District Court Map
Henrico County General District Court
4301 E Parham Rd
Henrico
,
VA
23273-0775
Phone: (804) 501-4723