(Last Updated On: March 8, 2020)
Update! Fugitive Thomas Keyes was brought into custody of Pamunkey Regional Jail in Ashland, Virginia on Wednesday, November 13th, 2018.
As of this writing, he awaits trial without bond on multiple felony and misdemeanor charges in the jurisdictions of Henrico and Spotsylvania counties.
---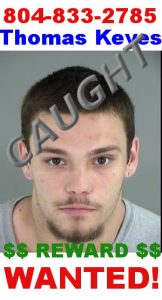 Fugitive Thomas Keyes.
Fugitive Thomas Keyes failed to appear in the Henrico General District Court on October 16th, 2018 on felony drug charges. He's also wanted in Spotsylvania Circuit Court on felony charges.
His full name is Thomas Michael Keyes Jr. and his date-of-birth is 12-16-1995.
Keyes is resides in Locust Grove, Virginia.
---