(Last Updated On: February 2, 2020)
Fugitive: Clarence Taylor for failure to appear in Richmond General District Court.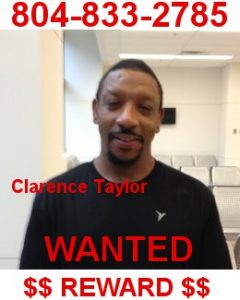 Clarence Eugene Taylor is currently a fugitive from justice after jumping bond in the jurisdiction of City of Richmond for felony and misdemeanor offenses. He's believed to be residing in Richmond area, in a Motel. He jumped bond on relatively minor charges. He's proved himself to be not very smart. Unfortunately, his girlfriend is even dumber than he is. It is also believe he skipped because he's afraid to go back in to jail with the middle name "Eugene".
His last known address was in the Dutch Village Apartments in South Richmond. However, he and his girlfriend were recently evicted. If you have any information, please call 804-833-2785. If your information leads to a him being caught, a cash reward will be paid.
Richmond City Jail | Bail Bonds Map
---
Richmond / Manchester General District Court
Clarence Taylor failed to appear in the Richmond/Manchester General Districe Court on October 15, 2014 for a felony hit and run felony and a 3rd offense for driving with a revoked or suspended license charges. His bond amount for these charges is $2500. This was just a hearing. That he chose not to go to attend this court date shows he had no intention of fulfilling his obligation to not-very-smart fiancee and the bail bondsman.
---
Please call 804-833-2785 if you have information on Clarence Taylor. If your information leads to apprehension, a cash reward will be paid.