(Last Updated On: January 29, 2020)
Fugitive Soueidatt El Hamer ( Elhaimer ) Wanted in Henrico General District Court

Fugitive Soueidatt El Hamer failed to appear in the Henrico General District Court on June 28th, 2017 on PWI (possession with intent) charges.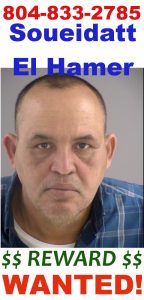 His date-of-birth is 10-10-1966.
Once again, this is another case of an extremely stupid person skipping bond on a non-significant charges. He's known to be with his cousin, Mohamad O Saleck, who also has an extensive criminal record. They were recently evicted from their West End Apartment in Henrico, VA.
Note: Soueidatt's real name is spelled Elhaimer, but Henrico Courts have it as El Hamer.
If you have any information, please call Aarrow Bail Bonds at 804-833-2785. If your information leads to El Hamer being caught, a cash reward will be paid.
---
Henrico County General District Court Map
Henrico General District Court
4301 E Parham Rd
Henrico
,
VA
23228