(Last Updated On: January 29, 2020)
Fugitive Latwanda Patterson was caught by authorities and has been serving sentences and awaiting trial in Chesterfield and Hanover county jails.
She has a record of numerous fail-to-appear charges, and her father, Robert Patterson, has proved to be, at best, and insincere cosigner. In other words, he cosigns for his daughter while having no intention of fulfilling his obligation. While he stated he doesn't know where she and and he has no job, I've received anonymous calls about him having two jobs and protecting her.
Note to other bondsmen: do not bond Latwanda and don't accept Robert Patterson as her cosigner.
As of this writing, she is awaiting charges in the Hanover.

---

Fugitive Latwanda Patterson failed to appear in the Hanover General District Court on March 29th, 2017 on felony larceny charges.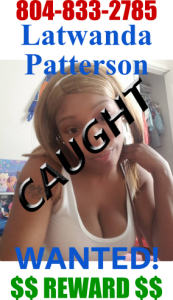 Latwanda Patterson is currently a fugitive from justice after jumping bond in the jurisdiction of County of Hanover, Virginia on 2 counts of felony larceny charges. Her last known address was on Williamsburg Road in Richmond, VA.
Her date-of-birth is 07-10-1983.
If you have any infomation, please call Aarrow Bail Bonds at 804-833-2785. If your information leads to her being caught, a cash reward will be paid.
---
Hanover County General District Court Map
Hanover General District Court
7530 County Complex Rd 1st Floor
Hanover, VA23069-0176