(Last Updated On: December 6, 2021)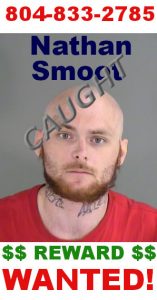 Update! Fugitive Nathan Smoot was apprehended and incarcerated at the Chesterfield Jail in early August of 2021.
All bonds have been revoked.
---
He is known to be jobless and lives by mooching off of other people. If he's become an annoyance to you or anyone you know and would like to be rid of him, please call Aarrow Bail Bonds at Telephone: 804-833-2785. If your information leads to his apprehension, a cash reward will be paid.
---