(Last Updated On: December 19, 2021)
Update! Ashley Shouse was apprehended in early December of 2021. As of this writing, she's incarerated at the Henrico County Jail without bond.
All bonds have been revoked.
---
Ashley Shouse failed to appear in the Henrico Circuit Court on November 23, 2021 for felony drug charges and prostitution.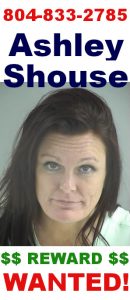 Ashley Shouse's date-of-birth is 10-07-1973. She's known to reside in the Sandston, VA area. However, more recently she's been staying in the Mallard Landing area in Midlothian, VA, just off of Genito Road with a Charles Howard, who goes by Mike, or Michael.
Please call Aarrow Bail Bonds at 804-833-2785 if you have any information on Ashley Shouse. A cash reward will be paid if the information leads to her apprehension.
---