(Last Updated On: March 7, 2020)
Update! Fugitive Michael Davis was apprehended in Amelia. As of this writing, he's held without bail in the Henrico Jail awaiting charges in Henrico and City of Richmond.
All outstanding bonds have been revoked.
---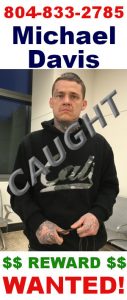 Fugitive Michael Davis failed to appear in the Richmond John Marshal General District Court on February 14, 2020 for a felony drug charge.
His full name is Michael Lance Davis. He is heavily tatooed, including on his hands, neck, and above his right eye. He typically resides in Sandston, VA.
If you have any information on fugitive Michael Davis, please call Aarrow Bail Bonds at 804-833-2785. If your information leads to her being caught, a cash reward will be paid.

---