(Last Updated On: March 8, 2020)
Update! Fugitive Montrell Hicks is currently being held in the Richmond City Justice Center. He was previously held in the Henrico Jail. It's unknown how he was apprehended. As of this writing, he's held without bail in the Henrico Jail awaiting charges in Henrico and City of Richmond.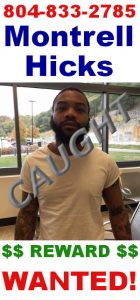 Fugitive Montrell Hicks failed to appear in the Richmond Circuit Court on January 31, 2020 for felony charges.
His full name is Montrell Rashad Hicks and his date-of-birth is 09-24-1993. He has numerous tattoos on both his arms, and as of this writing, he has a beard. It appears that he's the type of guy who is used to hiding behind the skirts of women.
The charge is a probation violation on a felony charge. So, this is another really stupid skip where the defendant is running for no reason. He typically resides in Highland Springs, VA with his mother.
If you have any information on fugitive Montrell Hicks, please call Aarrow Bail Bonds at 804-833-2785. If your information leads to her being caught, a cash reward will be paid.
---