(Last Updated On: February 2, 2020)
Happy new year everyone. I thought to wrap up 2015 with a post of how Aarrow Bail Bonds did and what's in store for 2016.
Started in 2011, Aarrow Bail Bonds has continually grown in both revenues and number of bonds written. To say it's been a learning and fulfilling experience is an understatement. Aarrow will continue to provide a premium bail bonding service to Central Virginia, which includes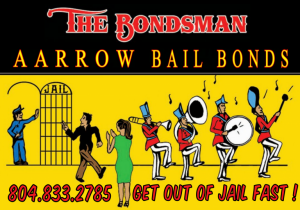 Richmond, Henrico, Chesterfield, Hanover, and beyond.
With Aarrow's steady progression, 2016 promises to be an even better year. While providing the same exceptional service, Aarrow opened new doors for Central Virginia bail bonding.
I mentioned earlier I've learned much as a bail bondsman. I've observed how our criminal justice system works, largely from the defendant perspective. I've found that some of Virginia's policies are simply unjust. As I was writing bonds and talking to people (on both sides of the law), it seems most everyone is in agreement that some of these laws are just bad. It's as if the laws were designed to create criminals out of citizens by means of punitive policies and punishments. A couple of years ago, I decided to write a book about some of what I believe are the more egregious laws. I put in Freedom of Information Act (FOIA) requests to local jurisdictions and did the research necessary to write and publish You Arrested Me for What?. I'm hoping it may help bring about some change to our more questionable criminal justice policies.
So onward and upward. Aarrow, aka The Bondsman, will continue providing the best bail bonding service in Central Virginia and hopefully help to bring a conversation to the table to get some of Virginia's bad criminal justice laws.
Thanks for reading and happy new year.