(Last Updated On: February 2, 2020)
In a previous post, I created the Best and Worst Bail Bond Video Awards, according to me. So in a similar vein, I thought to create a Best Jail Songs blog, of what I believe to be the best jail songs of all time.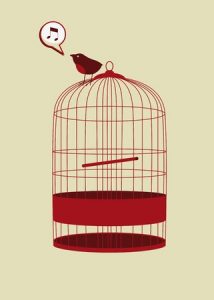 I have to admit, this is not exhaustive. In fact, I'm not going to rank them. After jotting down jail songs which appeal to me, it quickly became clear that there is no way I'll be able to rank them. So, I decided to list my top 5 favorite jail songs of all time.
Folsom Prison Blues – Johnny Cash
Written and first recorded in 1956, this song went nowhere until Cash recorded it on his live "At Folsom Prison" album in Folsom Prison on January 13, 1968. Combining the genres of both a train song and a prison song, it came an instant hit and restarted Cash's career. It held the #1 slot on the country charts for 4 weeks and became one of his signature songs. The line
I shot a man in Reno, just to watch him die.
was quite controversial at the time.
Throughout his career, Johnny Cash regularly performed in jails, and prison reform became one of his political causes.
Cocaine Blues – George Thorogood
This song was written by T.J. "Red" Arnall and originally recorded in 1947. It's about a guy name Willy Lee who shot his wife while on cocaine and whiskey, and how he gets arrested, tried, and convicted. The last lines of the song are:
Come all you hotheads you listen unto me,
Just lay off that whiskey and let that cocaine be.
Johnny Cash rejuvenated it by recording and releasing it on his "At Folsom Prison" in 1968. However, my favorite version, hands down, is George Thorogood's up-tempo rendition. It was recorded and released in 1978 on his "Move It On Over" album, along with other hits "Move It On Over" and "Who Do You Love?".
Bartender Song (Sittin' At A Bar) – Rehab
Released in 2008 by the southern rock band Rehab, it topped out on the billboard charts at #64. The band was then dropped by Epic records. However, the song lived on and became an underground hit on jukeboxes and the internet. It went viral.
The song is about a guy, drunk, sitting in the bar waiting to get arrested for wrecking his girlfriend's father's car. Some of the catchy lines are
I'm sittin at a bar in the inside, waiting on a ride on the outside.
She broke my heart in a trailer park.
There are a couple different versions of this song, all from the same group. The unedited version has the f-bomb dropped all over the place throughout it. The other version is a more cleaned-up version, where the f-bomb is is replaced by more family-friendly words.
Fly Away – Nelly
This song was released on the soundtrack to the 2005 remake of The Longest Yard, starring Adam Sandler. It's performed by the artist Nelly. The movie is about about a football game between prison inmates and the prison guards. It's a very smooth sounding hip-hop song about wishing to be out of the prison.
Renegade – Styx
"Renegade" was released in 1979 by Styx on the Pieces of Eight album. It reached #16 on the Billboard charts that spring. This is a song about an outlaw who's been captured for his bounty, and realizes he's about to be executed by hanging. This song is a rock staple which is, and will be, played on classic rock stations and playlists.
Tommy Shaw, Styx guitarist and vocalist, composed the song.
---
Thanks for viewing our blog. If you have any questions about bail bonds, or for that matter, jail songs, don't hesitate to call us at 804-833-2785.