(Last Updated On: February 3, 2020)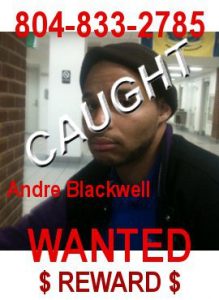 Andre Blackwell was apprehended by the Norfolk Police Department and is currently incarcerated at the Norfolk City Jail. The arrest occurred on March 26, 2014 and charged with obstruction of justice and contempt of court. He currently has no bond.
These charges are in addition to the Richmond Circuit and Viginia Beach Circuit charges. Prior to Andre Blackwell's arrest, he had skipped court for both the Richmond and Virginia Beach cases. His bond for these cases totaled $3000 dollars. However, these bonds were quickly revoked.
The details are currently sketchy as to how Andre Blackwell got from Richmond to Norfolk, who he was staying with, and how he got arrested. He had no job and the family in Richmond were not aware how he got to Norfolk or who was putting him up. They all confirmed Blackwell have very little, if any, money.
The other missing piece of information is how he got arrested. It's not known if a tip was offered to the police.
What is known is that Andre Blackwell is in jail, the bondsman and cosigner are off the bond and relieved of a $3000 bill, and Blackwell is not going anywhere for a while as he has to fulfill charges in numerous jurisdictions.
A big thanks to the Norfolk Police and the Norfolk Jail staff.