(Last Updated On: March 8, 2020)
Update! Fugitive James 'Levi' McGee was brought into custody by the Chesterfield police in July of 2019.
All outstanding bonds have been revoked.
---
Fugitive James McGee failed to appear in the Hanover General District Court on June 5th, 2019 on felony drug charges.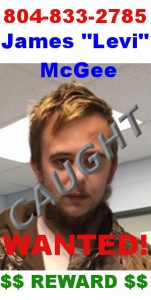 McGees's full name is James Levi McGee and goes by Levi. He's known to live in Chesterfield and/or Henrico Counties. His date-of-birth is 10-07-1994. He works as a landscaper, but is known to live off of others (i.e. crashing at their house, "borrowing" money, etc).
If you have any information on McGee, please call Aarrow Bail Bonds at 804-833-2785. A cash reward will be paid if your information leads to his apprehension.
---