(Last Updated On: February 3, 2020)
These are the Virginia bail bond laws as derived from the Virginia state statutes as they pertain to bail bonds, bail bondsman and the profession of bail bonding.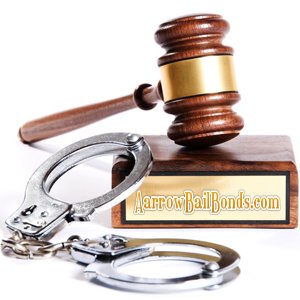 As with all professions in the United States, there are certain rules we all live by. As a bail bondsmen in Virginia, we must abide by the state statutes prescribed by these Virginia bail bond laws.
Virginia bail laws, like any other laws in the Commonwealth, must be adhered to stringently if we are to keep the cost of bail within reach of our clients. Aarrow Bail Bonds ensures that all clients have the right to respect and privacy. We will always follow these Virginia bail bond laws.
Virginia Bail Bond Laws § 9.1-185. Definitions.
As used in this article, unless the context requires a different meaning:
"Agent" means a person who is a licensed bail bondsman who has been given power of attorney to act on the behalf of a licensed property bail bondsman.
"Board" means the Criminal Justice Services Board.
"Certificate" means a certificate issued by a judge on or before June 30, 2005, pursuant to former § 19.2-152.1.
"Department" means the Department of Criminal Justice Services.
§ 9.1-185.1. Inapplicability of this article.
This article shall not apply to a person who does not receive profit or consideration for his services. (2004, c. 460.)
Virginia Bail Bond Laws § 9.1-185.2. Powers of the Criminal Justice Services Board relating to bail bondsmen.
The Board shall have full regulatory authority and oversight of property and surety bail bondsmen.
The Board shall adopt regulations that are necessary to ensure respectable, responsible, safe and effective bail bonding within the Commonwealth. The Board's regulations shall include but not be limited to regulations that (i) establish the qualifications of applicants for licensure and renewal under this article; (ii) examine, or cause to be examined, the qualifications of each applicant for licensure, including when necessary the preparation, administration, and grading of examinations; (iii) levy and collect nonrefundable fees for licensure and renewal that are sufficient to cover all expenses for administration and operation of a program of licensure; (iv) ensure continued competency and prevent deceptive or misleading practices by practitioners; (v) administer the regulatory system; (vi) provide for receipt of complaints concerning the conduct of any person whose activities are regulated by the Board; (vii) provide for investigations and appropriate disciplinary action if warranted; (viii) establish standards for professional conduct, solicitation, collateral received in the course of business, firearms training and usage, uniforms and identification, documentation and record-keeping requirements, reporting requirements, and methods of capture for the recovery of bailees; and (ix) allow the Board to suspend, revoke or refuse to issue, reissue or renew a license for just cause. The Board shall not adopt compulsory, minimum, firearms training standards in excess of 24 hours per year for bail bondsmen. In adopting its regulations, the Board shall seek the advice of the Private Security Services Advisory Board established pursuant to § 9.1-143. (2004, c. 460.)
§ 9.1-185.3. Powers of Department of Criminal Justice Services relating to bail bondsmen.
A. In addition to the powers otherwise conferred upon it by law, the Department may (i) charge each applicant for licensure a nonrefundable fee as established by the Board to cover the costs of processing an application for licensure, enforcement of the regulations, and other costs associated with the maintenance of the program of regulation; (ii) charge nonrefundable fees for training, processing school certifications and enforcement of training standards; (iii) conduct investigations to determine the suitability of applicants for licensure; and (iv) conduct investigations to determine if any disciplinary actions against a licensed bondsman are warranted. For purposes of determining eligibility for licensure, the Department shall require the applicant to provide personal descriptive information to be forwarded, along with the applicant's fingerprints, to the Central Criminal Records Exchange for the purpose of conducting a Virginia criminal history records search. The Central Criminal Records Exchange shall forward the fingerprints and personal description to the Federal Bureau of Investigation for the purpose of obtaining a national criminal record check.
B. The Director or his designee may make an ex parte application to the circuit court for the city or county wherein evidence sought is kept or wherein a licensee does business for the issuance of a subpoena duces tecum in furtherance of the investigation of a sworn complaint within the jurisdiction of the Department or the Board to request production of any relevant records, documents and physical or other evidence of any person, partnership, association or corporation licensed or regulated by the Department pursuant to this article. The court may issue and compel compliance with such a subpoena upon a showing of reasonable cause. Upon determining that reasonable cause exists to believe that evidence may be destroyed or altered, the court may issue a subpoena duces tecum requiring the immediate production of evidence. Costs of the investigation and adjudication of violations of this article or Board regulations may be recovered. All costs recovered shall be deposited into the state treasury to the credit of the Bail Bondsman Regulatory Fund. Such proceedings shall be brought in the name of the Commonwealth by the Department in the circuit court of the city or county in which the unlawful act occurred or in which the defendant resides. The Director, or agents appointed by him, shall have the authority to administer oaths or affirmations for the purpose of receiving complaints and conducting investigations of violations of this article, or any regulation promulgated hereunder and to serve process issued by the Department or the Board. (2004, c. 460.)
Virginia Bail Bond Laws § 9.1-185.4. Limitations on Licensure
A. In order to be licensed as a bail bondsman a person shall (i) be 18 years of age or older, (ii) have received a high school diploma or GED, and (iii) have successfully completed the bail bondsman exam required by the Board or successfully completed prior to July 1, 2005, a surety bail bondsman exam required by the State Corporation Commission under former § 38.2-1865.7.
B. The following persons are not eligible for licensure as bail bondsmen and may not be employed nor serve as the agent of a bail bondsman:
Persons who have been convicted of a felony within the Commonwealth, any other state, or the United States, who have not been pardoned, or whose civil rights have not been restored;
Employees of a local or regional jail;
Employees of a sheriff's office;
Employees of a state or local police department;
Persons appointed as conservators of the peace pursuant to Article 4.1 (§ 9.1-150.1 et seq.) of this chapter;
Employees of an office of an attorney for the Commonwealth;
Employees of the Department of Corrections, Department of Criminal Justice Services, or a local pretrial or community-based probation services agency; and
Spouses of or any persons residing in the same household as persons referred to in subdivisions 2 through 7 who are sworn officers or whose responsibilities involve direct access to records of inmates.
C. The exclusions in subsection B shall not be construed to limit the ability of a licensed bail bondsman to employ or contract with a licensed bail enforcement agent authorized to do business in the Commonwealth. (2004, c. 460; 2007, c. 133; 2008, c. 438.)
The most important Virginia bail bond laws we live by as professional Virginia bail bondsmen are those we adhere to diligently.

Dan Barto – Aarrow Bail Bonds
§ 9.1-185.8. Professional conduct standards; grounds for disciplinary actions.
A. Any violations of the restrictions or standards under this statute shall be grounds for placing on probation, refusal to issue or renew, sanctioning, suspension or revocation of the bail bondsman's license. A licensed bail bondsman is responsible for ensuring that his employees, partners and individuals contracted to perform services for or on behalf of the bonding business comply with all of these provisions, and do not violate any of the restrictions that apply to bail bondsmen. Violations by a bondsman's employee, partner, or agent may be grounds for disciplinary action against the bondsman, including probation, suspension or revocation of license.
B. A licensed bail bondsman shall not:
Knowingly commit, or be a party to, any material fraud, misrepresentation, concealment, conspiracy, collusion, forgery, scheme or device whereby any other person lawfully relies upon the word, representation, or conduct of the bail bondsman.
Solicit sexual favors or extort additional consideration as a condition of obtaining, maintaining, or exonerating bail bond, regardless of the identity of the person who performs the favors.
Conduct a bail bond transaction that demonstrates bad faith, dishonesty, coercion, incompetence, extortion or untrustworthiness.
Coerce, suggest, aid and abet, offer promise of favor, or threaten any person on whose bond he is surety or offers to become surety, to induce that person to commit any crime.
Give or receive, directly or indirectly, any gift of any kind to any nonelected public official or any employee of a governmental agency involved with the administration of justice, including but not limited to law-enforcement personnel, magistrates, judges, and jail employees, as well as attorneys. De minimis gifts, not to exceed $50 per year per recipient, are acceptable, provided the purpose of the gift is not to directly solicit business, or would otherwise be a violation of Board regulations or the laws of the Commonwealth.
Fail to comply with any of the statutory or regulatory requirements governing licensed bail bondsmen.
Fail to cooperate with any investigation by the Department.
Fail to comply with any subpoena issued by the Department.
Provide materially incorrect, misleading, incomplete or untrue information in a license application, renewal application, or any other document filed with the Department.
Provide bail for any person if he is also an attorney representing that person.
Provide bail for any person if the bondsman was initially involved in the arrest of that person.
C. A licensed bail bondsman shall ensure that each recognizance on all bonds for which he signs shall contain the name and contact information for both the surety agent and the registered agent of the issuing company.
D. An administrative fee may be charged by a bail bondsman, not to exceed reasonable costs. Reasonable costs may include, but are not limited to, travel, court time, recovery fees, phone expenses, administrative overhead and postage.
E. A property bail bondsman shall not enter into any bond if the aggregate of the penalty of such bond and all other bonds, on which he has not been released from liability, is in excess of four times the true market value of the equity in his real estate, cash or certificates of deposit issued by a federally insured institution, or any combination thereof.
F. A property bail bondsman or his agent shall not refuse to cover any forfeiture of bond against him or refuse to pay such forfeiture after notice and final order of the court.
G. A surety bail bondsman shall not write bail bonds on any qualifying power of attorney for which a copy has not been filed with the Department.
H. A surety bail bondsman shall not violate any of the statutes or regulations that govern insurance agents.
I. A licensed bail bondsman shall not charge a bail bond premium less than 10 percent or more than 15 percent of the amount of the bond. A licensed bail bondsman shall not loan money with interest for the purpose of helping another obtain a bail bond.
For the purposes of this section, a bail bond premium is defined as the amount of money paid to a licensed bail bondsman for the execution of a bail bond. (2004, c. 460; 2007, c. 708; 2011, c. 623.)
Virginia bail bond laws as stated and amended http://leg1.state.va.us/cgi-bin/legp504.exe?111+ful+CHAP0623