(Last Updated On: February 3, 2020)
Update: Richmond Fugitive Caught
Last October, I placed a wanted post for a person who had skipped court in in the Richmond Manchester General District Traffic Court. This is an update the Richmond fugitive, Clarence Taylor.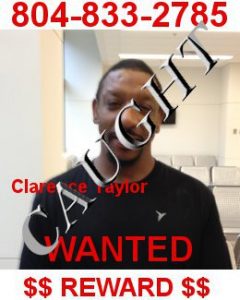 Clarence Taylor has been apprehended by the Chesterfield County Police and was booked in to the Chesterfield County Jail on December 10, 2014. He as various outstanding charges in Chesterfield, Henrico, and Richmond jurisdictions.
Among the charges are ID fraud, contempt of court, driving with a revoked license, and hit & run (failed to render assistance).
It's not known how or why Mr. Taylor was apprehended. Was he caught committing another crime, picked up on a traffic violation, or did someone turn him in to the police? At this point; however, it really doesn't matter.
The $2500 bail bond out of the Richmond Traffic Court, which he skipped on, has now been revoked. All interested parties are released from their financial responsibility of Mr. Taylor.
The Chesterfield Police deserve a big thanks for this one. Thanks again.