(Last Updated On: February 2, 2020)
On December 22, 2016, Ms. Goody was apprehended in Ohio and brought back to the Pamunkey Regional Jail in Hanover, Virginia. As of this writing, she is awaiting charges in the Hanover and Henrico courts.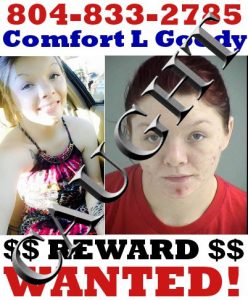 ---
Fugitive Comfort Goody failed to appear in the Hanover General District Court on October 5, 2016. She then failed appear in the Henrico, VA General District Court on October 10, 2016.
Comfort L Goody is now a fugitive from justice after jumping bond in the jurisdictions of Hanover and Henrico, Virgina. The Hanover charges are for shoplifting and contempt-of-court. The Henrico charge is for felony larceny.
Comfort has several tattoos: a bow beside her right shoulder, a small one on her right middle finger, and a large tattoo extending from her left thigh up to her ribs. She sometimes goes by her middle name of Liza, or Lizza, Goody. She often travels with her boyfriend, Ahmad Hutchins (pictured below). Ahmad's date-of-birth is 3-11-96 and also has a record of larceny charges in Hanover, VA.
From investigating this, both Goody and Hutchins have to keep moving around because they steal from those who offer them help.
While most of Goody's charges are misdemeanors, she has at least one felony charge. This means jumping across state lines will not help. However, she's a first-time felon, and first-time felony charges are often reduced to misdemeanors. Because of this lack of judgement, this is another skip which goes into the really-stupid category.
Goody's date-of-birth is 05-07-1997. She's known to live in New Kent and has been employed as a dancer by many of the Richmond Area gentleman's clubs.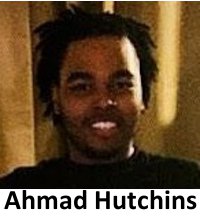 If you have any infomation, please call Aarrow Bail Bonds at 804-833-2785 If your information leads to a her being caught, a cash reward will be paid.
Hanover, Virginia General District Court
Henrico, Virginia General District Court