(Last Updated On: January 28, 2020)
Update:
Fugitive Mark Davis was brought into custody at the Hanover-Pamunkey Regional Jail on Tuesday, September 4th, 2018. As of this writing, he awaits trial without bond.
---
Fugitive Mark Davis
Fugitive Mark Davis failed to appear in the Hanover Circuit Court on June 6th, 2018 on felony probation violation charges.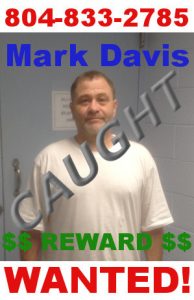 His date of birth is 10-31-1973 and his middle name is Andrew.
Mr. Davis resides in the Greater Richmond, Virginia area, particularly in Highland Springs. He may also be residing in Sandston, Charles City, New Kent, or Chester. He also has ties to Florida.
His personality seems to be easy-going and affable. However, after dealing with him as a bondsman and having interviewed some of his associates, there seems to be three things about him which stand out:
he's can't be counted to keep his word,
he's extremely unmotivated, and
he has no problem hiding behind a woman's skirt.
If you have any information, please call Aarrow Bail Bonds at 804-833-2785. If your information leads to his apprehension, a cash reward will be paid.
---
Hanover County Circuit Court Map