(Last Updated On: February 2, 2020)
Fugitive Jessica Oliver failed to appear in the Chesterfield Juvenile and Domestic Relations Court on February 9th, 2015 on felony larceny and breaking and entering charges. Fugitie Jessica Oliver is now wanted on felony charges in Chesterfield Juvenile and Domestic Relations Court.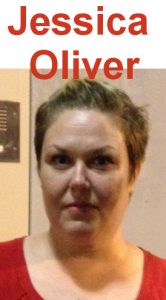 Jessica Lynn Oliver's date-of-birth is 12-09-1979.
Please call Aarrow Bail Bonds at 804-833-2785 if you have information on Jessica Oliver. If your information leads to apprehension, a cash reward will be paid. Or, please call your local the police and let them know. She's fully extraditable throughout the country. Just tell them her name and her date-of-birth.
She's known to be traveling with her dishonest and lazy partner, Zanda Stewart, who, as of this writing, is also wanted on felony charges from Chesterfield, Virginia. Miss Stewart's date of birth is 10-21-1987. They're known to be traveling in a blue-ish Acura, probably a 2003-2004, with license plate number X6873P.
Both fugitive Jessica Oliver and Stewart have captured the attention of the Virginia Crime Solvers. They both are known to change their hair color and style often, so their appearances may change in that respect.
They recently stole camping gear and money from a 'friend' and are likely to be staying in campgrounds.
---
Chesterfield Juvenile and Domestic Relations Court
Chesterfield Juvenile and Domestic Relations Court
7000 Lucy Corr Blvd
Chesterfield
,
VA
23832
Phone: (804) 748-1379