(Last Updated On: February 2, 2020)
Fugitive: Anthony Hernandez Wanted in Richmond General District Court

Anthony Estiva Hernandez failed to appear in the Richmond General District Court on March 4th, 2016 on felony drug charges.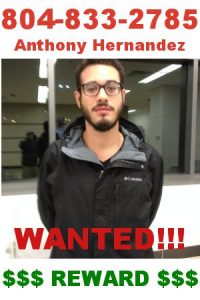 Anthony Estiva Hernandez is currently a fugitive from justice after jumping bond in the jurisdiction of City of Richmond, Virginia for felony drug charges. His last known address is in northern Virginia, but is believed to be living with his sister, possibly in Maryland. He's proved himself to be an adult male, rather than a man. For over three years he's lived with his girlfriend and has lived off of her as well. She stood by him and exposed herself financially by bonding him out of jail. He then skipped out on the court and her, leaving her to pay the bond. This guy cannot have any self-respect. Men don't sponge off of and hide behind their women. While boys and adult males do, men don't.
His date-of-birth is 07-19-1994.
If you have any information, please call Aarrow Bail Bonds at 804-833-2785 If your information leads to a her being caught, a cash reward will be paid.
Richmond City General District Court Map
Richmond General District Court