(Last Updated On: December 12, 2021)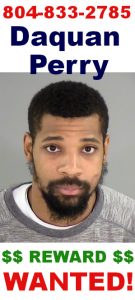 Fugitive Daquan Perry failed to appear in the Henrico Juvenile and Domestic Relations District Court last year on a felony larceny charge.
His full name is Daquan Anthony Perry and his date-of-birth is 09-24-1993. If you have any information on fugitive Montrell Hicks, please call Aarrow Bail Bonds at 804-833-2785. If your information leads to her being caught, a cash reward will be paid.