Performance: Private versus Public
Private bail has always out-performed public pretrial release in terms of lower fugitive rates.
18 percent of felony defendants released on surety bonds initially failed to appear in court (private), compared to 26 percent of those released on their own recognizance (public) and 30 percent released on unsecured bonds (public), according to a 2007 Department of Justice study of the nation's 75 largest counties.1
The same study showed the percent of the defendants who were fugitives after 1 year ranged from 3% of those released on surety bond (private), to 8% released on their own recognizance (public), to 10% for unsecured bond (public).1
A public "risk-based pretrial system" was dropped in Potter County, Texas after an assessment showed the public pretrial releases had more than double the failure-to-appear rate of private bail companies.2
Additionally, pretrial services imposes heavy financial and functional burdens on courts, police departments, taxpayers, and communities. Courts must increase staff to minimize backlogging, police have to deal with the fugitives, and communities are burdened with higher taxes and more fugitives running free.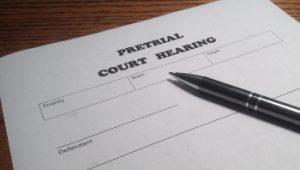 In 2014, New Jersey Governor Christie signed the Bail Reform/Speedy Trial Act in a 2014 after the voters passed it in a referendum. This comes with significant costs3 and resources, including increased court fees 4 to pay for hiring more judicial and legal staff 5, which ultimately burden the taxpayer. Those increased court fees are for everyone, from a common citizen disputing a speeding ticket to the lower income defendant who this is supposed to benefit.
Private bail is free. The people using the service pay for the service. The defendant's bondsman and loved ones have a financial and personal interest to ensure the defendant appears in court. This incentive is the main reason private bail fares so much better the government agencies. With pretrial services, no one is responsible if the defendant flees and the taxpayer is left paying the bill.
Fallacy
The pretense for eliminating private bail is to rescue the poor from the private bail system. In truth, the original stated goal of pretrial services was to do just that: bond out low-income defendants. The question has to be asked: why won't pretrial services do what they said they would do? The answer lies in the states which have eliminated private bail.
The states of Oregon, Kentucky, Illinois, and Wisconsin have banned private bail. However, the 10% bond fee is still required to bond out of jail. The difference is it's paid to the local jurisdiction and is returned less jail and court fees once the case is closed. It's simply a prepayment for fees and potential fines. This doesn't help the poor because they can't pay the 10% in the first place.
This implementation is never addressed by the anti-bail lobby. It shows their true agenda is to eliminate private bail, and it's inconsequential if the poor continue to remain in jail for inability to pay the bail.
Conclusion
If pretrial services were to be named according to what it actually does, it would be called pretrial probation. What pretrial services does, by placing immediate punishments on defendants prior to trial, is immoral. It burdens the taxpayer with an inferior service and unjustifiably harms the defendant. Laws should be changed to stop pretrial services from placing those arrested in an immediate post-trial punishment state.
---
1 | 2 | 3