(Last Updated On: March 8, 2020)
Update! Fugitive Aubrey Parsons was brought into custody on September 25, 2019 by the Henrico Police Department. As of this writing, he's awaiting several numerous felony charges at the Henrico Jail with no bond.
All outstanding bonds have been revoked.
---
This is another frivolous case of someone on the run for a nothing charge. Fugitive Aubrey Parsons failed to appear in the Richmond John Marshall General District Court on September 12, 2019 for his arraignment.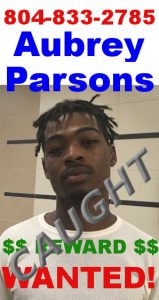 Parsons is running from a silly misdemeanor probation charge. In the worst case scenario, Parsons may have to pay a fine and/or court fees. There will likely be no jail time.
I tend to give my clients the benefit of doubt. Just because someone misses court does not mean they skipped court. There are valid reasons. But when the fugitive, cosigner, and other people involved fail to return phone calls, text messages, and emails, that is a sure sign there is no intention to go to court or make things right.
Parsons' lives in Petersburg. His date-of-birth is 01-29-1999.
If you have any information on fugitive Aubrey Parsons, please call Aarrow Bail Bonds at 804-833-2785. If your information leads to his apprehension, a cash reward will be paid.