(Last Updated On: February 2, 2020)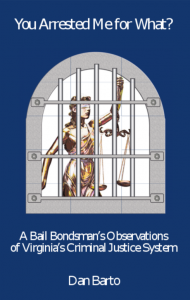 From back cover of my book, "You Arrested Me for What? A Bail Bondsman's Observations of Virginia's Criminal Justice System."
When someone is arrested, is it right to place that person on parole while he or she is awaiting trial? If someone cannot pay a fine, should that person's driver's license be suspended? Does Chesterfield really deserve the moniker Arrest-A-Field?
After seeing, first hand, how our criminal justice system affects people's lives, Dan Barto, a Virginia bail bondsman, calls into question some of Virginia's criminal justice laws and policies. Using personal anecdotes and referenced facts, this book makes a case that some of our accepted methods of criminal justice are unjust. His observations and arguments of both heavy and light topics are presented in a clear and entertaining fashion.
This book is the first of it's type from a bail bondsman I know of. Books by bail bonding agents typically fall into two categories: instructional and inside scoop story telling (Dog-the-Bounty-Hunter type stories). 'You Arrested Me for What?' has inside story telling interspersed into serious, with a few lighter, issues of Virginia's Criminal Justice System. Many of the issues are prevalent in other states and at the federal level as well. For example, pretrial services are implemented in most states and at the federal level, and a significant portion of this book is dedicated to pretrial services and how it's implementation is an affront to both the citizens of Virginia and the concept of 'innocent until proven guilty'.
Another serious topic I felt needed to be addressed is that citizens have their driver's license's suspended for not paying fees and fines. Again, this is implemented in most states as well.
There are lighter issues in this book, like the attempt to resolve if Chesterfield really deserves to be called Arrest-A-Field, and sex for bail.
All of these topics are backed up by a combination of Freedom of Information Act data from the localities of Richmond, Henrico, Hanover, Chesterfield, and DMV. Below are the table of contents for the book, which will be this coming January of 2016.
Contents
Introduction
Chapter 1. What Is Bail Bonding, and How Does It Work?
Chapter 2. Bail Bonding Business: Past and Present
Chapter 3. Pretrial Services: What Is It, and What Is Its Value?
Chapter 4. The Rift Between Pretrial Services and Commercial Bail
Chapter 5. The Fundamental Flaw with Virginia's Pretrial Services
Chapter 6. Pretrial Services vs Commercial Bail: Compare and Contrast
Chapter 7. What Makes Pretrial Services Bad?
Chapter 8. Virginia's Debtor's Prison: Surrender Your Driver's License
Chapter 9. Is Chesterfield Really Arrest-a-Field?
Chapter 10. Sex for Bail
Chapter 11. Inmates Are Revenue Generators
Conclusion
Endnotes
Buy it here at amazon.