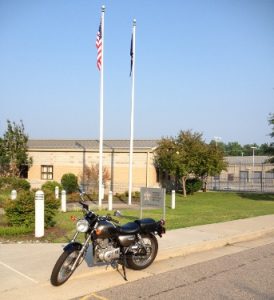 Henrico County Jail East is located in New Kent County. Why is a jail in New Kent County named "Henrico"? Because it's a regional jail. Aarrow Bail Bonds serves bonds at the Henrico County Jail East facility in New Kent, Virginia.
As part of a regional agreement between New Kent, Goochland, and Henrico, it's maintained and secured by the Henrico County Sheriff's Office.
It resides on 76 acres and was dedicated in September of 1996. Referred to as Henrico East or Jail East, it's built as a "new generation" jail. That means it uses direct supervision in a campus-style layout. The meaning of direct supervision is a no barrier between deputies and inmates.

The Henrico Jail East jail is a more "progressive" jail. Training and rehabilitation are offered with many different mental health and substance abuse services as well as educational and vocational training. Inmates may attend educational and vocational programs to pursue an occupational field. These programs are offered by the cooperation of staff, community volunteers and outside agencies.
If you need to bond someone out of the Henrico East Jail in New Kent, please call us immediately at 804-833-2785 . We're open 24/7, and we're fast, professional, courteous, and honest.
Map of Henrico County Jail East | Bail Bonds – in New Kent County
Henrico County's Regional Jail East – New Kent County
17320 New Kent Highway
New Kent, VA23011
Phone: (804) 652-1120